Inicio
»
Mi Biblioteca
» Southern Steam Recollections - A Portrait of the Last Years
Southern Steam Recollections - A Portrait of the Last Years
03.07.2020. 06:00
Southern Steam Recollections.
A Portrait of the Last Years.
Hola Amigos, hoy voy a hablaros sobre el libro
"Southern Steam Recollections. A Portrait of the Last Years " (Recuerdos del vapor del sur. Un retrato de los últimos años.)
.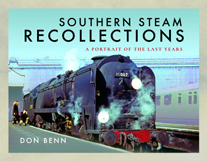 Ficha Técnica:
Título: Southern Steam Recollections. A Portrait of the Last Years.
Autor: Don Benn.
Editorial:
Pen and Sword Book.
Publicado por: Pen & Sword Transport.
Fecha de Publicación: 4 de Noviembre del 2019.
ISBN: 9781526726896.
Idioma: Inglés.
Páginas: 158.
Medidas: Ancho 25,5 cm. / Alto 19,7 cm. / Lomo 1,7 cm.
Tapas: Tapa dura con sobrecubierta plastificada a color.
Papel: Satinado de gramaje Estándar.
Lomo: Cosido y pegado perfecto. Nos permite abrirlo por completo sin ninguna dificultad.
Tipo de Libro: Photo Book.
Autor:
La obra corre a cargo de
Don Benn.
(Trabajador en la industria del transporte público y privado durante la mayor parte de su carrera. Durante diez años fue propietario y director de su propia compañía de autobuses. Historiador sobre temas ferroviarios, en especial los trenes a vapor. Actualmente se encuentra jubilado y escribe una columna mensual para una revista ferroviaria.)
Descripción:
Colección de fotografías de locomotoras y trenes de vapor en el sur entre 1960 y 1967.
Comentarios:
La nueva obra del amigo Don Benn,
no dejará indiferentes a los amantes del vapor de las primeras épocas
. Su pasión por el vapor del sur y la fotografía le hizo capturar escenas de los últimos años del mismo entre 1960 y 1967.
En esta colección de imágenes se notan los cambios y avances en la calidad de las cámaras utilizadas
, que aun así permitieron tomar magníficas instantáneas gracias a la pericia del autor.
El libro sigue una pauta a la hora de mostrar las imágenes,
comenzado las tomas en el este y avanzando de forma gradual hacia el oeste de la región, aunque la mayoría de ellas pertenecen a las áreas del sur y suroeste de Londres, incluyendo lugares tan populares como los senderos en South Croydon y Wimbledon.
Mayormente, las fotos que veremos son inéditas,
encontrándonos con muchos de los antiguos diseños clásicos de Southern Railway, como las locomotoras de vapor de las clases King Arthurs, Lord Nelson y Schools.
El apartado visual está compuesto por
150 fotografías en blanco y negro
que son un disfrute para los sentidos.
Observaciones:
Un patrimonio fotográfico de indudable valor.
Para finalizar, quisiera transmitir mi agradecimiento a la Editorial "Pen and Sword Books" por su aportación de la obra y por la confianza puesta sobre mí persona a la hora de hacer una revisión y valoración personal de su calidad y contenido.
Jose Manuel Rico Cortes
( Mister JM )
Portal Web:
http://www.miniaturasjm.com
Facebook:
facebook.com/josemanuel.ricocortes
Twitter:
twitter.com/Mister_JM
VK:
vk.com/misterjm
Este artículo no tiene comentarios.