Inicio
»
Mi Biblioteca
» Profiles of Flight SEPECAT Jaguar
Profiles of Flight SEPECAT Jaguar
06.03.2017. 06:00
Profiles of Flight: SEPECAT Jaguar.
Tactical Support and Maritime Strike Fighter.
Hola Amigos...
Hoy voy a hablaros sobre el libro
"Profiles of Flight: SEPECAT Jaguar" (Perfiles de vuelo - SEPECAT Jaguar)
, publicación que he recibido de La Editorial "Pen and Sword Books" para hacer una valoración personal de su calidad y contenido.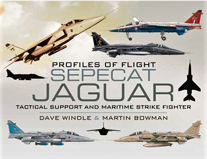 Ficha Técnica:
Título: Profiles of Flight - SEPECAT Jaguar.
Series: Profiles of Flight.
Autores: David Windle and Martin Bowman.
Editorial:
Pen and Sword Book.
Publicado por: Pen & Sword Aviation.
Fecha de Publicación: 4 de Octubre del 2010.
ISBN: 9781848842373.
Idioma: Inglés.
Páginas: 88.
Medidas: Ancho 25,5 cm. / Alto 18 cm. / Lomo 1,3 cm.
Tapas: Tapa dura con sobrecubierta plastificada a color.
Papel: Satinado de gramaje medio.
Lomo: Cosido y pegado perfecto. Nos permite abrirlo por completo sin ninguna dificultad.
Tipo de Libro: Photo Book. Graphic Book.
Autor:
La obra corre a cargo de David Windle y Martin Bowman.
David Windle.
(Ilustrador de perfiles de aviones con una gran reputación a nivel internacional.)
Martin Bowman
. (Escritor e investigador. Es uno de los principales historiadores británicos sobre aviación.)
Descripción:
Guía detallada y visual del avión, SEPECAT Jaguar.
Comentarios:
Este volumen pertenece a la Serie Perfiles de Vuelo y está dedicado al avión, SEPECAT Jaguar.
El SEPECAT Jaguar, es un
avión monoplaza de ataque a tierra
anglo-francés, diseñado originalmente para ser empleado por la Real Fuerza Aérea Británica y el Ejército del Aire Francés en situaciones de apoyo aéreo cercano y ataque nuclear. Fue desarrolado por la empresa SEPECAT (Société Européenne de Production de l'Avion d'Ecole de Combat et d'Appui Tactique), sociedad formada por las empresas "Breguet Aviation" y "British Aircraft Corporation".
El libro se divide en dos apartados claramente diferenciados:
Apartado 1
En él se incluye una descripción detallada y fotográfica de la nave.
- Historia del aparato.
- Características Técnicas.
- Características de Vuelo.
- Zonas de actuación en servicio.
- Tipos de armamento y electrónica.
- Variantes del Modelo.
- Países en los que ha servido.
- Un interesante archivo fotográfico compuesto por 48 imágenes en blanco y negro.
Apartado 2
En él se incluye una Guía Visual mediante Perfiles.
- 35 impresionantes Perfiles a todo color del aparato en diferentes modos operativos, configuraciones y esquemas de color.
Observaciones:
Un libro útil e interesante para los Modelistas de aviones.
Jose Manuel Rico Cortes
( Mister JM )
Portal Web:
http://www.miniaturasjm.com
Facebook:
facebook.com/josemanuel.ricocortes
Twitter:
twitter.com/Mister_JM
Este artículo no tiene comentarios.