Inicio
»
Mi Biblioteca
» Great Western Star Class Locomotives
Great Western Star Class Locomotives
07.06.2017. 03:00
Great Western Star Class Locomotives.
Hola Amigos...
Hoy voy a hablaros sobre el libro,
"Great Western. Star Class Locomotives" (Great Western. Locomotoras de la Clase Star.)
, publicación que he recibido de La Editorial "Pen and Sword Books" para hacer una valoración personal de su calidad y contenido.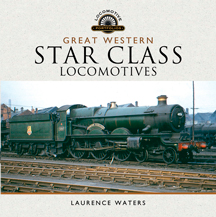 Ficha Técnica:
Título: Great Western. Star Class Locomotives.
Autor: Laurence Waters.
Editorial:
Pen and Sword Book.
Publicado por: Pen & Sword Transport.
Series: Locomotive Portfolios.
Fecha de Publicación: 3 de Abril del 2017.
ISBN: 9781473871021.
Idioma: Inglés.
Páginas: 149.
Medidas: Ancho 25,8 cm. / Alto 24,7 cm. / Lomo 1,9 cm.
Tapas: Tapa dura con sobrecubierta plastificada a color.
Papel: Satinado de gramaje medio.
Lomo: Cosido y pegado perfecto. Nos permite abrirlo por completo sin ninguna dificultad.
Tipo de Libro: Photo Book.
Autor:
La obra corre a cargo de
Laurence Waters.
(Escritor e historiador. Fotógrafo Profesional y Profesor de enseñanzas fotográficas ya jubilado. Diplomado por la universidad de Oxford en historia local inglesa. Archivero fotográfico honorario de la Great Western Trust en el centro de Didcot Railway.)
Descripción:
Historia de las locomotoras de la Clase Star.
Comentarios: A partir de 1982 en Inglaterra, la WGR comienza con un nuevo periodo de modernización de sus líneas y locomotoras
. El nuevo Jefe de Ingeniería Mecánica, Dº George Jackson Churchward, adquirió una serie de distintos tipos de locomotoras con fines experimentales que le ayudarían a planificar un nuevo y más moderno ferrocarril.
En abril de 1906, nació el nuevo prototipo denominado como Estrella del Norte No. 40
que fue construida como una locomotora 4-4-2 Clase Atlantic, pero diseñada con el fin de transformarla de una manera fácil en una 4-6-0, reconstrucción realizada como tal en 1909.
Las máquinas de la Clase Star, demostraron ser un tipo de locomotoras rápidas y muy fiables
, adaptándose a los servicios exprés de pasajeros de largo recorrido durante muchos años.
La obra viene muy bien ilustrada con
203 fotografías en blanco y negro junto con dos planos de la 2-6-0
con los diagramas, peso, medidas y capacidades de carga.
Observaciones:
Otra delicia visual para los seguidores incondicionales de la Great Western.
Jose Manuel Rico Cortes
( Mister JM )
Portal Web:
http://www.miniaturasjm.com
Facebook:
facebook.com/josemanuel.ricocortes
Twitter:
twitter.com/Mister_JM
Este artículo no tiene comentarios.