Inicio
»
Mi Biblioteca
» French Tanks of the Great War. Development, Tactics and Operations
French Tanks of the Great War. Development, Tactics and Operations
11.07.2016. 06:00
French Tanks of the Great War. Development, Tactics and Operations.
Hola Amigos...
Hoy voy a hablaros sobre el libro
" French Tanks of the Great War. Development, Tactics and Operations. " (Tanques franceses durante la Gran Guerra, desarrollo, tácticas y Operaciones)
, publicación que he recibido de La Editorial "Pen and Sword Books" para hacer una valoración personal de su calidad y contenido.
Ficha Técnica:
Título: French Tanks of the Great War. Development, Tactics and Operations.
Autor: Tim Gale.
Editorial:
Pen and Sword Book.
Publicado por: Pen & Sword Military.
Fecha de Publicación: 8 de Junio del 2016.
ISBN: 9781473823501.
Idioma: Inglés.
Páginas: 260.
Medidas: Ancho 16,5 cm. / Alto 24 cm. / Lomo 2,5 cm.
Tapas: Tapa dura con sobrecubierta plastificada a color.
Papel: Estándar.
Lomo: Cosido y pegado perfecto. Nos permite abrirlo por completo sin ninguna dificultad.
Tipo de Libro: Libro de Lectura.
Autor:
La obra corre a cargo de Tim Gale. (Doctorado por el Departamento de Estudios de Guerra, del Kings College de Londres por sus trabajos de investigación sobre el desarrollo del tanque francés y las operaciones militares en la Primera Guerra Mundial. Autor del libro "The French Army's Tank Force and the Development of Armoured Warfare in the Great War". Varias contribuciones en libros académicos en referencia a las Primera Guerra Mundial.)
Descripción:

El libro es un conjunto de estudios históricos acompañado con ilustraciones y fotografías, sobre la actuación y el desarrollo de las operaciones militares de los tanques franceses durante la gran Guerra.
Comentarios:
En 1915, Francia comienza a investigar cómo convertir su artillería convencional en artillería especial y acorazados blindados móviles, y es a partir de 1917 cuando el Cuerpo de Tanques blindados francés toma una importancia relevante durante su actuación en las contiendas.
La obra es un estudio a conciencia sobre el desarrollo de los blindados franceses, sus tácticas de combate y las operaciones donde estuvieron presentes.
Como apoyo a la lectura vienen incluidos en el libro
distintos tipos de diagramas y gráficos.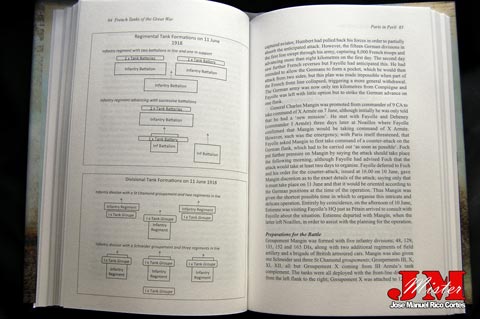 Una interesante colección de
16 fotografías en blanco y negro de gran calidad.


Cinco mapas de control de las principales ofensivas:
1. The nivelle offensive 1917 (Avance de los tanques propuesto).
2. The Battle of Malmaison (23/27 Octubre de 1917).
3. The Battle of the Matz (11 de Junio de 1918).
4. The second Battle of the Marne (17/28 de Julio de 1918).
5. The American offensive in the Meuse-Argonne (26 de Septiembre al 11 de Noviembre de 1918).
Y tres apéndices con datos de gran importancia:
1. Artillerie Spéciale Order of Battle, 26 October 1918.
2. Table of Artillerie Spéciale Engagements, 1917-1918.
3. Brief Technical Specifications ( 6 dibujos en blanco y negro con breves especificaciones sobre algunos de los vehículos, motor, armamento y colocación de los tripulantes en el interior del vehículo.).
Observaciones:
Realmente un gran y exhaustivo trabajo de documentación al servicio del lector.
Jose Manuel Rico Cortes
( Mister JM )
Portal Web:
http://www.miniaturasjm.com
Facebook:
facebook.com/josemanuel.ricocortes
Twitter:
twitter.com/Mister_JM
Este artículo no tiene comentarios.