Inicio
»
Mi Biblioteca
» England s Historic Churches by Train
England s Historic Churches by Train
19.04.2017. 06:00
England's Historic Churches by Train.
Hola Amigos...
Hoy voy a hablaros sobre el libro "England's Historic Churches by Train" (Iglesias históricas de Inglaterra en tren), publicación que he recibido de La Editorial "Pen and Sword Books" para hacer una valoración personal de su calidad y contenido.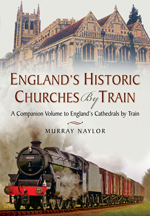 Ficha Técnica:
Título: England's Historic Churches by Train.
Autor: Murray Naylor.
Editorial: Pen and Sword Book - http://www.pen-and-sword.co.uk/
Publicado por:
Pen and Sword Book.
Fecha de Publicación: 7 de Septiembre del 2016.
ISBN: 9781473871427.
Idioma: Inglés.
Páginas: 215.
Medidas: Ancho 18,1 cm. / Alto 25,5 cm. / Lomo 2 cm.
Tapas: Tapa dura con sobrecubierta plastificada a color.
Papel: Satinado de gramaje medio.
Lomo: Cosido y pegado perfecto. Nos permite abrirlo por completo sin ninguna dificultad.
Tipo de Libro: Photo Book.
Autor:
La obra corre a cargo de Murray Naylor. (Escritor e investigador interesado en la historia de los ferrocarriles y las catedrales de Inglaterra. Militar de Profesión, ya retirado del Ejército británico.)
Descripción:
El libro es una visita guiada a 32 Iglesias históricas de Inglaterra utilizando como transporte el tren.
Comentarios:
La historia de Inglaterra no puede entenderse sin
uno de sus patrimonios históricos más preciado
, sus iglesias.
El amigo Murray,
nos ha preparado un festín cultural visitando 32 de las más emblemáticas iglesias de Inglaterra
, utilizando como medio de transporte el ferrocarril para moverse de unas a otras.
En su libro nos relata pormenores de cada una de ellas
, su importancia histórica, social y cultural. El hecho de utilizar trenes para sus viajes le confiere a las visitas un encanto un tanto especial, y aprovecha el uso del mismo para dar un pequeño repaso al antes y después de la historia ferroviaria de Inglaterra.
La obra incluye un mapa completo de las líneas de trenes junto con
194 fotografías en color y 5 en blanco y negro,
lo que lo convierte en una interesante guía a la hora de planificar o realizar este tipo de visitas.
Observaciones:
Un libro muy interesante y con un archivo de imágenes magnífico.
Jose Manuel Rico Cortes
( Mister JM )
Portal Web:
http://www.miniaturasjm.com
Facebook:
facebook.com/josemanuel.ricocortes
Twitter:
twitter.com/Mister_JM
Este artículo no tiene comentarios.