Inicio
»
Mi Biblioteca
» CarCraft 01 - Bugatti Type 35 Grand Prix Car and its Variants
CarCraft 01 - Bugatti Type 35 Grand Prix Car and its Variants
23.03.2020. 06:00
CarCraft 01 - Bugatti Type 35 Grand Prix Car and its Variants.
Hola Amigos, hoy voy a hablaros sobre el libro
"Bugatti. Type 35 Grand Prix Car and its Variants." (Bugatti. Tipo 35 Grand Prix Car y sus variantes).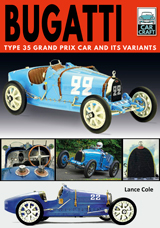 Ficha Técnica:
Título: Bugatti. Type 35 Grand Prix Car and its Variants.
Autor: Lance Cole.
Editorial:
Pen and Sword Book.
Publicado por: Pen & Sword Transport.
Series: Car Craft.
Fecha de Publicación: 7 de Octubre del 2019.
ISBN: 9781526756763.
Idioma: Inglés.
Páginas: 64.
Medidas: Ancho 21 cm. / Alto 29,7 cm. / Lomo 0,7 cm.
Tapas: Tapa blanda a color.
Papel: Satinado de gramaje alto.
Lomo: Cosido y pegado perfecto. Nos permite abrirlo por completo sin apenas dificultad.
Tipo de Libro: Photo Book.
Autor:
La obra corre a cargo de
Lance Cole.
(Periodista y escritor. Obtuvo el Sir William Lyons Scholar de 1983. Articulista y conferenciante para los principales títulos de automoción y aviación. Columnista del The Daily Telegraph, The Independent, The South China Post y numerosas publicaciones. Locutor para la BBC Radio 4 entre otras. Piloto de planeador y diseñador entrenado. Autor de 8 libros.)
Descripción:
Historia, documentación técnica, visual y modelística del Bugatti Tipo 35 y sus respectivas variantes.
Comentarios:
Estamos de enhorabuena,
la editorial Pen and Sword Books, amplía sus Cuadernos de Modelismo "Craft" con el estreno de una nueva Serie
dedicada a un tema bastante esperado y demandado como es el de los
vehículos civiles más famosos en maqueta o kit,
y lo hace con uno de los mejores automóviles de todos los tiempos.
Siguiendo con la metodología de presentación de las Series "Craft",
hoy pasamos revista al primer volumen de la Serie "Car Craft" enfocado en el Bugatti Tipo 35 y su variantes
, en su ya clásico formato perfectamente estructurado en el que nos encontraremos Documentación Histórica, Documentación fotográfica, Documentación ilustrada y Documentación para modelismo, todo ello con categorías independientes pero complementadas entre sí.
El apartado histórico nos pone en antecedentes sobre
la historia del vehículo, el diseño, la ingeniería, el motor y las distintas variantes existentes
, apoyando el texto con numerosas e interesantes fotografías de gran calidad en blanco y negro y en color.
En el apartado Model Showcase disponemos de una galería de modelos acabados
a escalas 1/8, 1/20, 1/24 y 1/32
construidos y pintados por profesionales y expuestos en detalle desde distintos ángulos.
El apartado Modelístico nos ofrece información sobre los fabricantes que como
Revival, Monogram, Amalgam Collection, Art Auto Collection, Airfix, Franklin Mint, Romania´s Wespe Models, Germany´s CMC Models o Tamiya
entre otros, han comercializado estos modelos en kit
a distintas escalas como 1/6, 1/8, 1/20, 1/24, 1/28, 1/32 y 1/43.
El apartado visual está compuesto por
38 imágenes en blanco y negro, 93 en color y 4 láminas en color con 12 perfiles de los vehículos
en sus correspondientes versiones de color.
Observaciones:
Otra magnífica serie para coleccionar y así aumentar nuestra biblioteca personal de documentaciones de modelismo.
Para finalizar, quisiera transmitir mi agradecimiento a la Editorial "Pen and Sword Books" por su aportación de la obra y por la confianza puesta sobre mí persona a la hora de hacer una revisión y valoración personal de su calidad y contenido.
Jose Manuel Rico Cortes
( Mister JM )
Portal Web:
http://www.miniaturasjm.com
Facebook:
facebook.com/josemanuel.ricocortes
Twitter:
twitter.com/Mister_JM
VK:
vk.com/misterjm
Este artículo no tiene comentarios.