Inicio
»
Mi Biblioteca
» 1918 - The Decisive Year in Soldiers own Words and Photographs
1918 - The Decisive Year in Soldiers own Words and Photographs
14.12.2018. 06:00
1918. The Decisive Year in Soldiers' own Words and Photographs.
Hola Amigos...
Hoy voy a hablaros sobre el libro
"1918. The Decisive Year in Soldiers' own Words and Photographs "(1918. El año decisivo en las propias palabras y fotografías de los Soldados.)
.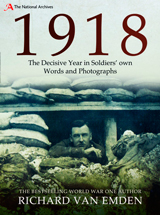 Ficha Técnica:
Título: 1918. The Decisive Year in Soldiers' own Words and Photographs.
Autor: Richard Van Emden.
Editorial:
Pen and Sword Book.
Publicado por: Pen & Sword Military.
Series: The National Archives.
Fecha de Publicación: 17 de Septiembre del 2018.
ISBN: 9781526735553.
Idioma: Inglés.
Páginas: 375.
Medidas: Ancho 18,8 cm. / Alto 24,3 cm. / Lomo 3,4 cm.
Tapas: Tapa dura con sobrecubierta plastificada a color.
Papel: Satinado de gramaje alto.
Lomo: Cosido y pegado perfecto. Nos permite abrirlo por completo sin ninguna dificultad.
Tipo de Libro: Photo Book.
Autor:
La obra corre a cargo de
Richard Van Emden.
(Escritor e Investigador especializado en la Gran Guerra, 1914-1918. Entre sus obras publicadas se encuentran: Britain's Last Tommies, Boy Soldiers of the Great War, All Quiet on the Home Front, Prisoners of the Kaiser and The Trench.)
Descripción:
Historia del año final de la Gran Guerra mediante las propias palabras y fotografías de los Soldados que la combatieron.
Comentarios: A finales de Noviembre de 1918 Alemania acaba aceptando su derrota
que quedará plasmada sobre el papel mediante la firma de un armisticio 6 meses más tarde en el tratado de Versalles, dándose por finalizada la Primera Guerra Mundial apodada por muchos como la Gran Guerra.
Aunque dicho así da la sensación que ese año para los aliados todo hubiera sido coser y cantar victoria tras victoria, y
la realidad es que fue el año más duro de la guerra
, en la que las potencias enfrentadas en un intento de desnivelar la balanza dieron el todo por el todo hasta el último minuto.
Las ofensivas desesperadas Alemanas durante la primavera,
la Ofensiva de Meuse-Argonne, la "Batalla de Amiens", o la "línea de Hindenburg" entre otras dejaron por sentado de forma clara y rotunda que ambos contendientes pusieron toda la carne en el asador.
El amigo Richard van Emden,
ha investigado una gran colección de memorias, diarios y cartas escritas
, para contarnos la historia de muchos de estos hombres que vivieron en primera persona la experiencia de la guerra y así dejarnos un legado de experiencias de incalculable valor.
Si a ello le sumamos un
atípico archivo de fotografías personales
que los mismos combatientes tomaban con sus cámaras de forma ilegal, conseguimos una obra más fresca documentalmente hablando.
El apartado visual está formado por
203 extraordinarias imágenes en blanco y negro, mapas incluidos
.
Observaciones:
Una obra rejuvenecedora
dentro de un nicho tan trillado como es el de la Primera Guerra Mundial.
Para finalizar, quisiera transmitir mi agradecimiento a la Editorial "Pen and Sword Books" por su aportación de la obra y por la confianza puesta sobre mí persona a la hora de hacer una revisión y valoración personal de su calidad y contenido.
Jose Manuel Rico Cortes
( Mister JM )
Portal Web:
http://www.miniaturasjm.com
Facebook:
facebook.com/josemanuel.ricocortes
Twitter:
twitter.com/Mister_JM
Este artículo no tiene comentarios.