Inicio
»
Mi Biblioteca
» Great Western Manor Class
Great Western Manor Class
31.05.2017. 06:00
Great Western Manor Class.
Hola Amigos...
Hoy voy a hablaros sobre el libro
"Great Western. Manor Class" (Great Western. Clase Manor)
, publicación que he recibido de La Editorial "Pen and Sword Books" para hacer una valoración personal de su calidad y contenido.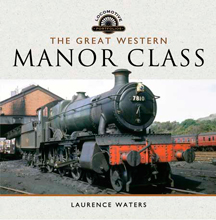 Ficha Técnica:
Título: Great Western Manor Class.
Autor: Laurence Waters.
Editorial:
Pen and Sword Book.
Publicado por: Pen & Sword Transport.
Fecha de Publicación: 22 de Junio del 2016.
ISBN: 9781783831463.
Idioma: Inglés.
Páginas: 111.
Medidas: Ancho 25,8 cm. / Alto 24,7 cm. / Lomo 1,7 cm.
Tapas: Tapa dura con sobrecubierta plastificada a color.
Papel: Satinado de gramaje alto.
Lomo: Cosido y pegado perfecto. Nos permite abrirlo por completo sin ninguna dificultad.
Tipo de Libro: Photo Book.
Autor:
La obra corre a cargo de
Laurence Waters
. (Escritor e historiador. Fotógrafo Profesional y Profesor de enseñanzas fotográficas ya jubilado. Diplomado por la universidad de Oxford en historia local inglesa. Archivero fotográfico honorario de la Great Western Trust en el centro de Didcot Railway.).
Descripción: Historia de las l
ocomotoras de la Clase Manor.
Comentarios:
El libro nos relata
la historia de las locomotoras de la Clase Manor
desde su construcción en Swindon durante 1938, hasta la retirada final de las últimas máquinas en 1965.
De esta locomotora
se construyeron 30 unidade
s en dos tandas.
Para ahorrar costes en la primera tanda se aprovecharon partes del modelo 4300 de clasificación 2-6-0s que ya había sido retirado del servicio.
Este tipo de locomotoras
obtuvo la clasificación de "Ruta azul"
, licencia que les permitió trabajar sobre muchas de las líneas secundarias existentes.
La obra está magníficamente ilustrada,
56 fotografías en color y 165 en blanco y negro,
la mayoría inéditas.
La situación donde las imágenes fueron tomadas son ideales,
ya que nos dejan observar en segundo plano muchos edificios, estaciones o zonas con presencia humana y nos sirven también como documentación extra que nos ayuda a tener una mejor visión de la época.
Observaciones:
Una obra exquisita y un archivo de imágenes de lujo.
Jose Manuel Rico Cortes
( Mister JM )
Portal Web:
http://www.miniaturasjm.com
Facebook:
facebook.com/josemanuel.ricocortes
Twitter
: twitter.com/Mister_JM
Este artículo no tiene comentarios.