Inicio
»
Mi Biblioteca
» FlightCraft 19 - North American Aviation P-51 Mustang
FlightCraft 19 - North American Aviation P-51 Mustang
12.03.2021. 06:00
Flight Craft 19 - North American Aviation P-51 Mustang.
Hola Amigos, hoy voy a hablaros sobre el libro
"FlightCraft 19 - North American Aviation P-51 Mustang".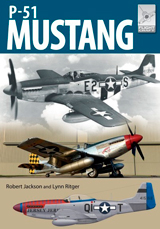 Ficha Técnica:
Título: FlightCraft 19 - North American Aviation P-51 Mustang.
Autor: Robert Jackson.
Editorial:
Pen and Sword Book.
Publicado por: Air World.
Series: Flight Craft.
Fecha de Publicación: 17 de Septiembre del 2020.
ISBN: 9781526759900.
Idioma: Inglés.
Páginas: 96.
Medidas: Ancho 21 cm. / Alto 29,6 cm. / Lomo 0,7 cm.
Tapas: Tapa blanda a color.
Papel: Satinado de gramaje medio.
Lomo: Nos permite abrirlo por completo sin apenas dificultad.
Tipo de Libro: Photo Book. Modelismo.
Autor:
La obra corre a cargo de
Robert Jackson.
(Escritor e historiador especializado en vehículos militares. Antiguo Corresponsal de Defensa y Ciencia de un importante grupo editorial británico de periódicos. Autor de más de ochenta libros de temática militar)
Descripción:
Historia, documentación técnica, visual y modelística del North American Aviation P-51 Mustang y sus respectivas variantes.
Comentarios: El volumen número 19 de la Serie FlightCraft que hoy nos ocupa, está dedicado al caza de escolta y ataque monomotor de largo alcance "North American P-51 Mustang"
y a sus respectivas variantes, en un formato perfectamente estructurado en el que nos encontraremos Documentación Histórica, Documentación fotográfica, Documentación ilustrada y Documentación para modelismo, todo ello con categorías independientes pero complementadas entre sí.
En abril de 1940, ante la urgente necesidad de defender los cielos británicos del invasor alemán,
la Comisión de Adquisiciones del Reino Unido pidió a la empresa aeronáutica "North American Aviation" (NAA) la creación de un caza norteamericano para la RAF.
Tras cuatro meses de arduo trabajo el primer prototipo designado como NA-73X fue puesto a prueba.
Las pruebas con el motor Allison V-1710 de 1.100 CV no fueron nada satisfactorias
y
se optó por montar un motor Rolls-Royce Merlín
fabricado por Packard que tras una serie de pruebas se convirtió en el motor ideal para este aparato.
El apartado histórico trata
sus orígenes, el diseño y su motor junto a sus actuaciones en los distintos conflictos
, apoyando el texto con una gran colección de fotografías muy interesantes tanto en blanco y negro como en color.
El apartado Model Showcase viene unido al apartado Modelistico,
alternando las revisiones sobre cada casa con una galería de ejemplo de los modelos acabados.
El apartado Modelístico en sí, nos ofrece información sobre los fabricantes que como
Academy, Accurate Miniatures, Airfix, ARII, Hasegawa, Hobby Boss, Italeri,/Testors, Meng, Monogram, Revell y tamiya
entre otros, han comercializado estos modelos en kit a distintas escalas como
1/32, 1/48 y 1/72
.
El apartado visual está compuesto por
119 fotografías en blanco y negro y 115 en color, junto con una sección especial ilustrada a todo color de 8 Láminas con 24 perfiles laterales en distintos camuflajes
, todos ellos de gran calidad.
Observaciones:
Serie de Modelismo aeronáutico imprescindible en nuestra biblioteca.
Para finalizar, quisiera transmitir mi agradecimiento a la Editorial "Pen and Sword Books" por su aportación de la obra y por la confianza puesta sobre mí persona a la hora de hacer una revisión y valoración personal de su calidad y contenido.
Jose Manuel Rico Cortes
( Mister JM )
Portal Web: http://www.miniaturasjm.com
Facebook: facebook.com/josemanuel.ricocortes
Twitter: twitter.com/Mister_JM
VK: vk.com/misterjm
Este artículo no tiene comentarios.